Used UTV vs New UTV
We've all had those nights where a sleepless night quickly turns into a 4-hour binge session through the classifieds. You come across all kinds of things from used appliances to "barely used" UTV's being sold for a teeny fraction of their original price and you begin thinking up all kinds of excuses over why you need them in your life.
Though as we all know, buying anything used can be as reliable as a politicians promise. When it comes to a used UTV, we're not saying you can't find a good deal out there. But why go through all that hassle, when not only can you buy something brand new but end up saving money at the same time! Sound too good to be true? Well, not unless you opt for one of Massimo Motors UTV's or golf carts.
Buck
Series
Designed to be all the UTV you could ever need, the Buck series from Massimo promises to be a killer deal without sacrificing quality or performance. Within the range, you'll find three distinct models. The Buck 200, Buck 400, and the only electric UTV in the lineup, the Buck 60E.  With the reasonable pricing from Massimo, you can expect these machines to rival prices of most used UTV's on the market from reputable brands like Polaris or Yamaha.
While all Buck models share a pretty similar but distinct design, underneath that exoskeleton their different machines altogether. The Buck 200 utilizes a 177cc four-stroke single-cylinder engine that pushes out 8.7bhp to just the rear wheels, sorry no 4WD on this one.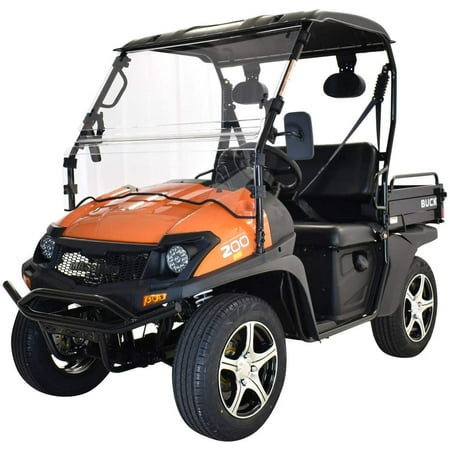 The Buck 400 enlarges that very same engine to 391cc, adds liquid cooling to the mix to churn out a much more respectable 25bhp. The 60E, on the other hand, has a quiet electric motor that provides pretty decent power and more than enough torque to get your heart beating a few ticks faster. Though its limited 50 mile range and 5 hours charging time is anything but convenient.
Yes, none of these UTV's could be exactly be described as the pinnacle of performance but compared to the engines you'll find in most used UTV's. They'll be reliable, won't end up in a cloud of smoke after just quarter throttle and most importantly, will be much cheaper to keep going in the long run.
When it comes to standard features all Buck models feature a hardtop roof, side mirrors, LED headlights, indicators and a windshield. However, the Buck 400 is the only UTV to feature off-road tires, select 4WD and a 3000 lb front winch. Finding a used UTV with the same features and pricing that hasn't seen years of abuse won't exactly be as easy.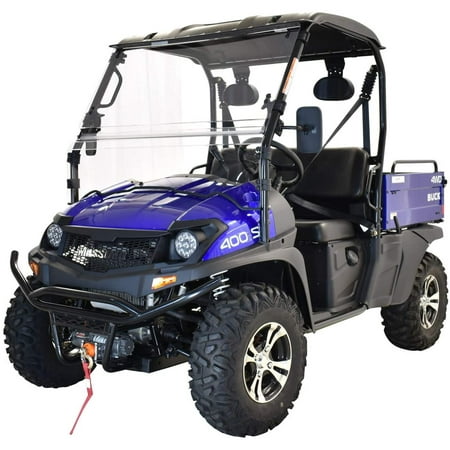 All Buck models also feature a standard hydraulic dump bed at the rear, though for a little bit extra you can get each UTV in a Golf variant. This replaces the rear dump bed with a rear bench, which can also be folded down to turn it into a makeshift flatbed.
Step inside and it's the standard affair of big and chunky buttons alongside rough and tumble materials all over, built to withstand years of abuse. The bench seating inside the Buck Series is comfortable, if lacking a bit of support but amenities such as a glovebox and a 12V power socket do somewhat make up for it.
To tackle the rough stuff, even though these are some of Massimo Motors least expensive  UTV's, you still get fully independent suspension, drilled and ventilated hydraulic disc brakes. The Buck 400 is the only one in the lineup to get a locking differential, alongside the aforementioned off-road tires and front winch.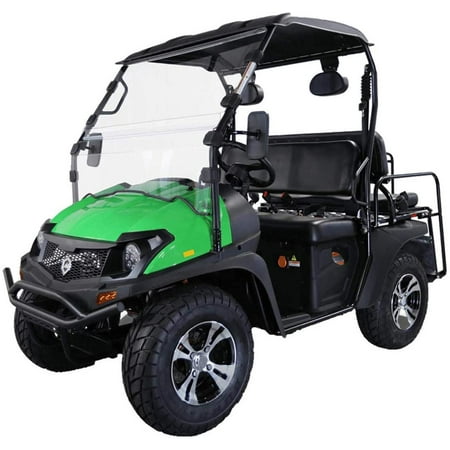 Couple this alongside the extra power and the 400 remains the ideal choice for your next trailblazing expedition. The Buck 200 and the 60E are by no means lackluster but we wouldn't recommend taking them on anything more challenging than a dirt trail. In comparison to a used UTV, unless it's been thoroughly maintained over the years, it too might struggle to get its weary bones up a slightly steep slope.
T BOSS
Series
Next up on our roster of sturdy and aggressive UTV's is the T Boss Series from Massimo. These UTV's are some of the best bang for the buck side by sides you can get on the market today and if you're looking for a UTV that's as practical as it is fun to slide about on tarmac or gravel. These T Boss series UTV's give not only used UTV's a run for their money but other brand new ones as well.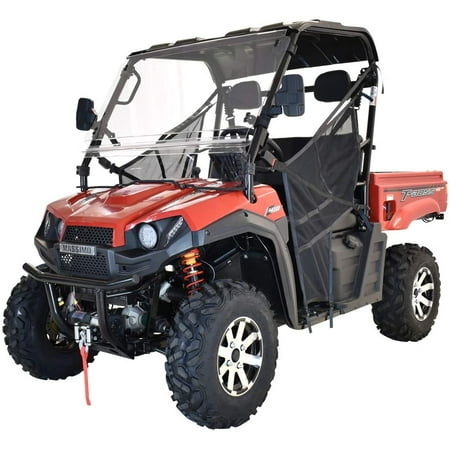 There's a vast number of models in the T Boss lineup so for this comparison we'll be taking three of the best value vehicles. First up is the base model Massimo T Boss 410, the next model is the 550 while the only diesel model in the lineup is the 1100D.
While the 1100D may seem a bit rich, its actually not bad value at all once you compare it to other diesel UTV's. Such as the Polaris General 1000, which when speced out to anything half-decent can cost nearly $19,000. Even if you get a good deal on a used UTV in diesel spec, the constant repair bills are enough of a reason to go with a brand new Massimo side by side.
In terms of design, the base 410 T Boss shares a very similar look to that of the Buck Series, aggressive but restrained. The T Boss 550, however, takes sharp angles and aggressive creases to a whole new level. Imagine a T Boss 550 in matte black and you've got yourself a Batman spec UTV. The 1100D is a bit more restrained than the 550, it's available with an enclosure, this may come in handy if you plan on using it to plow snow.
Power is an important factor to consider when thinking about the smiles per mile you're going to want to get out of these UTV's. Go with a used UTV and unless it's a pristine example, you might just get 400 yards worth of childlike shenanigans before the distinctive smell of burnt clutch fills the air.
The 410 will get you 25.5bhp from its 352cc four-stroke single-cylinder SOHC engine, the 550 bumps power up to 33bhp from 500cc worth of capacity while the 1100D has a Kubota 3-cylinder 1100cc engine with 24.8bhp. That may not be a massive amount of power in the grand scheme of things, but a diesel engine means big copious lumps of torque, and who doesn't love torque.
The interior also differs from model to model with the T-Boss Series. The base 410 UTV gets a fully digital instrument cluster, your usual array of Massimo switchgear and a pretty wonky looking gear lever. Though nothing major to complain about.
The 550 gets you a half digital and half analogue instrument cluster, the analogue part being a whacking great rev counter. Also, the gear lever in the 550 looks as if it came off a 90's luxury car. You also get more interior storage with the 550 in the form of a glove box and a storage cubby in the dashboard.
The middle section of the bench seat can also be folded down to get a center  armrest with twin cup holders. The 1100D is pretty much the same as the 550 on the inside, except for the instrument cluster. For whatever reason, this one is centrally mounted, though it does have a slight star trek vibe to it with its design.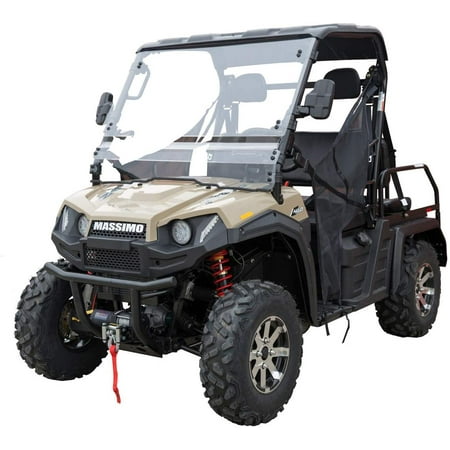 Take the T Boss to the great outdoors and its here where this side by side truly begins to flex its muscle. Fast, agile and capable are just three words that can be used to describe the off-road prowess of these Massimo UTV's. As standard you get fully independent suspension, locking differentials, drilled and ventilated hydraulic disc brakes, standard front winch and off-road tires. Extra goodies you get with the 550 and 1100D comes in the form of power steering, front and rear A-Arm guards and a power-operated rear dump bed.
All T Boss models handle great whether they're on tarmac or sliding about over a loose and potted surface, the 410 could do with a bit more suspension travel but it's still a far cry better than most of the used UTV's out there. These machines are not designed to lead an easy life, so worn out suspension and tires, a tired engine, among many other faults, make a brand new Massimo UTV a much better choice over a used UTV.
Warrior
Series
The Warrior Series is not only one of the most iconic Massimo UTV's of all time, but an iconic side by side full stop. The Warrior features an inline 3 seater layout alongside a complete steel construction for its exterior. The Massimo Warrior has often been described as the Hummer of the UTV world, and with styling to match. Even the base Warrior 700 features the same flat front end, vertical slats within the grille and boxy design language that defines the classic military Humvee.
Getting a used UTV with this much character and road presence, and for a pretty reasonable price is something you're going to struggle to find.  The Warrior 700 is also as practical as it is funky to look at. You get the standard-issue rear dump bed just like any other Massimo UTV, but this side by side also has a roof rack in place. It doesn't end there, the front end is completely flat with a railing around its perimeter, so you can even haul stuff in the front.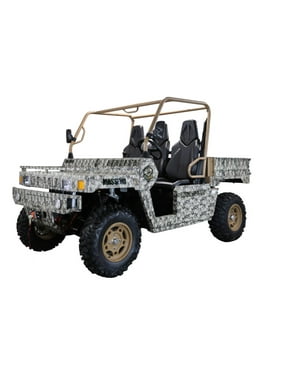 The Massimo Warrior 700 features a liquid-cooled 686cc electric fuel-injected four-stroke 1-cylinder engine that pushes out a modest 34 bhp, we say modest because thanks to that steel construction it weighs in at over 1800 lbs. Still, as long as you don't get yourself into too deep a muddy field, the Warrior 700 should cope just fine.
Like the exterior, the interior is just as quirky. For starters, the three-seater layout takes a bit of getting used to and it means the Warrior 700 has to be wide, very wide, in fact at 65 inches narrow gaps between the trees are no longer a viable shortcut with this side by side. Though a locking glovebox, 12V power sockets and a couple of USB ports are all nice touches to have. The seats are also excellent and thanks to the plentiful side bolstering, you can pretty much corner at the limit of grip all the time.
Chunky off-road tires, selected 4WD, 3500 lb front winch, locking differential, front and rear A-Arm guards and hydraulic slotted and ventilated disc brakes are all standard affairs on the warrior. Though one grip we do have is you can't have a hardtop roof or a roof rack at the same time, so come rain, you won't be exploring the limits of grip with this UTV.
The Warrior is pretty much in a class of its own and finding a used UTV that would put as big a smile on your face as the Massimo Warrior 700 does would be a pretty tough find. We're not saying it doesn't exist, but when you can just get one hassle-free, brand new, often for less money and with a warranty, why would you bother?
Where To Buy a Used UTV Or Golf Cart
Safer Wholesale offers frequently used motor sports products.  Often you will find used golf carts along with a used UTV from time to time and large selection of new UTV's, ATV's and custom golf carts.  Safer Wholesale sells a large variety of products and ships all over the country.  Here is a link to safer Wholesale.com.
Second hand utility vehicles are easy to find.  Find information about pricing on a used UTV at Kelly Blue Book.
Where To Buy A New UTV Or Golf Cart
A very well known place that most Americans are aware of and are comfortable purchasing from is Walmart.com.  It's no surprise that this online giant offer Massimo Motors products on their website.
Walmart is selling these UTV's and Golf Carts at great prices and with free shipping.  Inventory changes on this site frequently so be sure to check the website.  You can find link to Walmart  below.