Used Side
By
Side UTV or New Massimo Warrior 700
?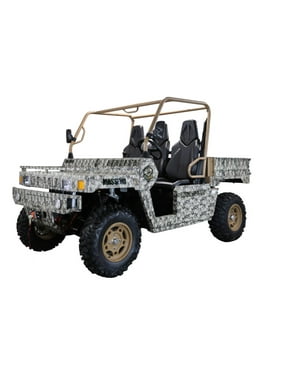 Premium UTV brands are a dime a dozen these days, brands such as Polaris and Yamaha have some pretty killer offerings on the market. From the likes of the Polaris RZR to the Yamaha Wolverine, it seems every brand is looking to cut themselves a chunky slice from the premium sector of the UTV market. Most of them aren't doing a half-bad job at it either.
Take any relatively premium UTV these days and you'll find that it accelerates off the line like a thoroughbred supercar, the aggressive design language would have most people's hairs standing on end at first glance and their sheer off-roading capabilities would make even your classic Land Rover Defenders get a bit nervous.
However, there seems to be one common issue that plagues all these premium UTV's and that's their galactic price tags. Most of these so-called upmarket UTV's have started venturing into price brackets most of us can't even dream of spending on our next car. Dropping something like $20,000 for a Polaris Ranger XP is a hard stretch for those of us who don't have 98% of our body festooned with gold trinkets and "Lil" preceding our first names.
Happily, however, there are some manufacturers out there that won't charge you 3.75 kidneys for a basic frame with wheels and an engine. In fact, some of their side by side UTV's are such good value for money that they actually cost less brand new than most of these used side by side UTV's sell for on the second-hand market. One such company is Massimo Motors and their Warrior 700 side by side UTV is sure to be a major thorn in the side for the well established UTV manufacturers out there.
The Massimo Warrior 700 is a premium UTV that's priced fairly reasonably around $10,799 at the time of writing this article. Although, the asking price from Massimo is slightly under $11,000 you can find it here for a lot less and with free shipping.  Comparing this to the price of some premium used side by side UTV's and it starts looking like a proper bargain. Though is it worth getting it over a used side by side UTV? Well, that's what we're going to find out today.
New & Shiny vs A Used Side By Side UTV 
As we've talked about before, the Yamaha Rhino is what most small scale side by side UTV manufacturers take as their design inspiration. However, for the Warrior 700, Massimo Motors found a different muse this time around, and it's not even a UTV. Take one look at the Warrior 700 and you'd be forgiven for mistaking it for a mini military Hummer.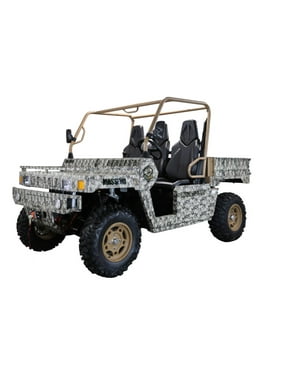 The square headlights, the distinctive grille with vertical slats, and that front bumper are all classic Hummer design language traits. The Warrior 700 even comes with a camo paint job alongside bronze wheels and a roll cage to further pay tribute to its military-inspired aesthetics. It's a refreshing change from the endless creases and sharp angles that you see on most UTV's these days and its boxy stance might be hugely appealing to those of us with a military vehicle collecting disposition.
Whether you love it or hate it, the fact remains that a brand new UTV will be miles better looking than a tatty used side by side UTV that's done about a million miles and has barely any paint left on it. This Massimo UTV is also vastly more practical than most of its competitors out there, new or used. Around the rear, you get a hydraulic dump bed that goods for a max load capacity of 500 lbs, an amenity most premium manufacturers love to charge extra for.
[Find a Great price on the Massimo Warrior 700 and get free shipping at Walmart.com.]
Though that's not where the storage capabilities of the Warrior 700 end. On the roof is a storage rack that probably good for storing another couple hundred pounds worth of goodies in. Even the front hood is completely flat and useful for transporting things in a pinch, there's a multitude of tie-down points as well on the front and rear. So nothing goes flying off even when you are. We highly doubt you'd find anything on the used market that could even come close to the practicality that this side by side can offer.
30 Miles vs 3,000 Miles
Whenever we're purchasing a used car, we always try to make sure the engine hasn't lived too hard a life, that it hasn't been constantly thrashed to the point of no return. Well in the case of purchasing used side by side UTV's, you can be pretty much guaranteed that it hasn't been treated like a garage queen. They're meant to be driven to the limits of their performance and under unforgiving conditions, so its no wonder that most of the used offerings out there are on their last legs.
You might be able to get a good deal on your dream Polaris or Honda UTV, but when something does go wrong and it will, especially if it's clocked thousands of miles on its odometer. The spare parts and labor are going to be anything but cheap. So given the choice between a UTV with 30 miles on the clock vs one with 3,000 miles, we'd know what we would pick.
It's not like you'll get a lawnmower engine either if you're going brand new. The Massimo Warrior 700 comes equipped with a liquid-cooled 686cc electric fuel-injected four-stroke 1-cylinder engine that pushes out a respectable 34 ponies. That's by no means class-leading, especially given the fact it weighs in at over 1800 lbs but it's not exactly lacklustre either. This Massimotors UTV is still good for around 35mph on tarmac or gravel and has a towing capacity of up to 1500 lbs.
Dirt trails and mountainous expeditions should be no problem, given that you're not deliberately trying to stick it in a ditch. There might be areas where this Massimo Motors side by side UTV might begin to struggle, but with enough persuasion from your right foot and it should be just fine. It'll defiantly do better than a used side by side UTV that might just end up in a ditch from a broken shock absorber or worn out brake discs.
Interior
The Massimo Warrior 700 is a bit of an interesting side by side UTV as it has a triple inline seating position, a configuration you don't see that much of. You get three individual bucket seats that have plenty of side bolstering to keep you from sliding about mid-corner. There are even three seatbelts, however, the middle seat only gets a lap belt. The lack of cupholders is also another drawback alongside no grab handles for any of your passengers. Not deal-breakers by any means, but something worth mentioning.
However, this Massimo does come with several features that you won't find on most used side by side UTV's out there. These features include a standard front winch, side mirrors, turn signals, locking differential, locking glovebox, 12V power sockets and a couple of USB ports. All good stuff to have, though one gapping omission is a hardtop roof. Unfortunately, you can't have the roof rack and the hardtop both at the same time, and the hardtop is extra. So come rain this Massimo motors side by side UTV is going to be staying indoors.
Off-Road Capabilities
When it comes to tackling the rough stuff, the Massimo Warrior 700 comes prepared with its huge chunky off-road tires, selected 4WD, locking differential and hydraulic slotted and ventilated disc brakes all around. You even get steel front and rear A-Arm guards that provide plenty of suspension travel when your pathway is met with large rocks and deep potholes. It's even pretty comfortable on the road too, though the lack of power steering can get a little annoying sometimes.
If you do get stuck the standard front winch is rated for up to 3500 lbs, so it should have no problem pulling itself or anyone else from muddy fields and up steep inclines. As far as power goes, it should be enough for some proper adrenaline-inducing adventures, though don't expect it to blow your socks off or anything.
A used side by side UTV in comparison could fair better or worse depending on which model you pick up. However, it is unlikely you'll find something from the premium range of manufacturers that can compete with the Warrior 700's practicality, standard features and of course that factory warranty. Even if you do find something with a bit more power, be prepared to spend quite a bit more on changing outs it destroyed tires for new ones among other maintenance items.
The Massimo 700 should do just as well offroad as its used side by side UTV competition, and it'll be able to do it again and again reliably without you having to baby it up a track in fear of blowing a gasket or something. Ample power, 14 inches of ground clearance and a plethora of other off-roading equipment makes the Warrior 700 a great choice for everyday chores or your next off-roading expedition.
Conclusion
In many cases, it can be better to go used rather than new. You tend to get more for your money and usually end up with just as good of a product.  Remember, all used side by side UTV's are not the same. A six month old floor model and a three year old hard used side by side have not taken the same abuse.  Take all factors into consideration when making your best decision.
[Find a Great price on the Massimo Warrior 700 and get free shipping at Walmart.com.]
However, in the case of side by side UTV's, Massimo motors have managed to deliver a cracking good off-road brute with immense practicality for not very much money. That coupled alongside the fact that it usually costs less brand new than most used side by side UTV's from brands such as Yamaha and Polaris almost makes it a no brainer.
Please follow us on Twitter 
Better Idea? | Used Side By Side UTV Or New Massimo Warrior 700 #offroad https://t.co/a0tuqfyfeD

— youroffroadpartner.com (@offroadpartner) April 2, 2020