New Massimo UTV vs A Used Side By Side
New or Used? Yes, which way do we go?  Ahh, the age-old question. There are benefits and drawbacks with each method and usually, people employ a pretty similar philosophy when choosing between the two. If you can afford it, going brand new can save you quite a bit of hassle and it lets you sleep better at night knowing you've got that precious factory warranty in case anything does go wrong.
Though that's not to say you can't get a good deal when you do go looking on the second-hand market. If you have a keen eye and are willing to put in the effort, and a little luck, you can find a reliable used side by side for a fraction of the price.
So what about UTV's? Should you go ahead and purchase one brand new from the factory and be ready to potentially take a massive hit in depreciation when you come to sell it. Or should you just avoid all that and purchase a used side by side and just hope it doesn't disintegrate the next time you introduce it to a hill. It's a tricky question, especially since UTV's seem to be becoming more and more expensive by the day for models with about the same range, and the standard features of shoebox.
Well lucky for us there are a couple of manufacturers out there that don't intend to leave a massive UTV sized hole in your bank account with their offerings. Companies such as Massimo Motors offer UTV's that can actually cost less than some premium branded UTV's go for on the second-hand market.  So within the same bracket, do you go for a brand new Massimo UTV or do you go for something used? Well, let's find out.
Exterior & Engine
When it comes to condition, there's no denying the fact that going with something second-hand means your going to have to compromise on the quality of the UTV. Vehicles driven off-road can end up looking like they've just come off the front lines in a battlefield, so when it comes to used side by side that is a common sight to behold when your browsing through the classifieds.
From the exterior to the engine and all the underlying components. There's no knowing which of them might be in next to brand new condition or reduced to the structural rigidity of a cardboard box. The engine, in particular, is always something to watch out for. Usually, these UTV's live at redline when there out and about scampering up narrow dirt tracks. So leaky fuel lines, worn out filters and gaskets among a plethora of issues are not uncommon.
Especially considering a brand new UTV will be shiny and glitzy enough to the point where you could eat off the engine bay, and who doesn't love that new UTV smell.   When going brand new you should be perfectly able to get a few tens of thousands of miles worth of stress-free trailblazing action without the worry of your wheels falling off anytime you take it above 4000rpm.  Responsibly driving of course.
[Massimo Motors ~ An American Success Story]
Even lower down in the model range you still get plenty of grunt with Massimo side by side UTV's. Take the Massimo MSU 850-5, it gets you a 60bhp powerhouse of an engine.
Couple that to a pretty lightweight body and you know you're in for some proper Sunday morning mud-filled festivities. Speaking of the body, when it comes to most UTV's there exterior tends to be constructed from plastic panels since its a lot cheaper and lighter.
Plastic tends to fade and crack over time though, and once you expose it to conditions most UTV's spend most of their lives in. Its no wonder why you might see massive gouges in the panels and a seemingly endless number of scratches all around the exterior of a used side by side UTV.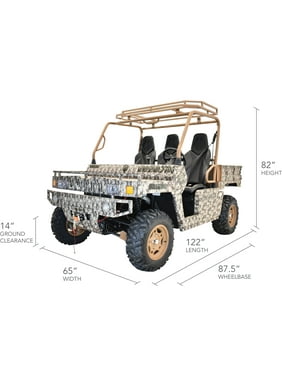 These aren't cheap to replace either, most likely you'll have to order replacement panels direct from the factory. Admittedly overtime such a fate might befall on your brand new Massimo UTV as well, however, with the proper care and attention these panels can be made to last.
If you don't want to bother with any of that then just go for a Massimo Warrior, their entire body is constructed from steel. So it's unlikely to crack and fade when left out in the sun to long.
New Interior Vs Old
When it comes to the interior on your used side by sides. It can be faded beyond recognition and torn in more places than you can count. Sure UTV's are built to be tough but there by no means indestructible. So if that sort of thing does bother you, you'll either have to get it all repaired or just learn to ignore it.
Thankfully Massimo does a great job with the interiors on its side by sides. There's an air of quality of their interiors and they aren't as utilitarian as you might expect from a value packed UTV.  Take the steering wheel, in whatever Massimo Motors product you do end up purchasing. Its always just the right shape with the right amount of grip and feel. You can't help but appreciate them on it every time you get into a Massimo Motors UTV.
All models feature an interior that's laid out logically and equipped with robust buttons that could easily be operated with gloves and outlast the period where you kids just feel like breaking everything they touch. The seats are all pretty comfortable as well. If you go for one of the less expensive models you get a pretty decent bench seating option. However, some of the higher-end variants such as the Warrior feature individual bucket seats that are comfortable and have seat belts.
Speaking of the Warrior, if you are looking for something with an inline three-seater layout, options even on the used market might be a little too pricy. That's why the base Massimo Warrior 700 that Massimo lists on their website for a little under $11,000 (find the Warrior 700 for far less here) is such great value for those of you that want to bring along a couple of friends to traumatize on your next hill climb or hunting trip.
Off-Roading Capability
When it comes to UTV's, if it can't handle the rough stuff then no enthusiast in their right mind would ever purchase one. Used side by sides can appear to be great bargains at first glace. However, pictures from the internet and a real-life inspection can yield two completely different stories. It might look all shiny from a distance, but when you get closer, make sure to take a close look at all the vital components. Such as suspension, skid plates, brakes, tires, headlights, radiators, gas quality, filters and so on.
Even when one of them goes wrong, it can spell major trouble when you're going over 40mph around a twisty bit on a gravel track. Suspension components, in particular, might be the first things to go and they tend to be one of the most expensive components to replace. The newer the suspension, the better the ride and capabilities will be of the UTV in question.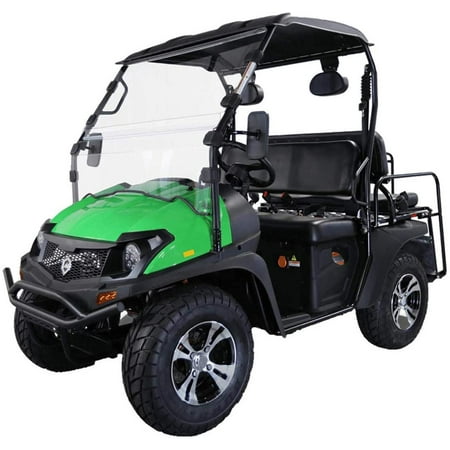 That's exactly why Massimo Motors doesn't skimp on anything when it comes to off-road equipment. Fully independent suspension, locking differentials and standard winches on most of its vehicles.  All expensive components to repair and when you get the opportunity to get a side by side with all those things brand new and fitted as standard, it is hard to resist.
The

T-Boss Series 
When it comes to choice, you might think you'll have way more options when it comes to picking up a used side by side and to be fair your right. However, that's not to say that Massimo's lineup of UTV's is anything less than expansive.
If you're looking for a general all-rounder, why not consider something from the T-Boss lineup. The Massimo T-Boss 410 offers stellar value for money. You get a whole host of features that come as standard including a hardtop roof, windshield and side mirrors.
The engine's got plenty of grunt to get you where you need to go and locking differentials, fully independent suspension alongside drilled and ventilated hydraulic disc brakes all around mean mother natures going to have to try pretty hard to stop you.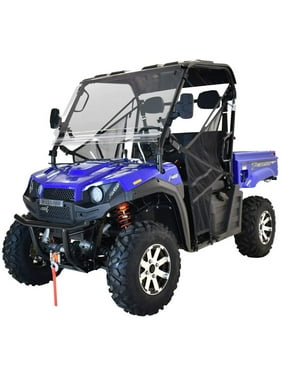 That's just the baby in the T-Boss range, there's a vast array of machines  available in every model range catering to a specific price point. Just within the T-Boss lineup, you have the 410, 550, 750, and 1100 (diesel).  So there's pretty much something here for everyone. Looking for something with a bit of old school flair and immense off-roading capabilities?
Why not check out the Massimo Warrior lineup. What about something electric? Well, then there's the Buck 60 electric UTV and Buck 60X Golf, instant torque and plenty of charisma make this a stellar choice for your next golf cart or electric UTV.
The best part about going with a brand new UTV is you'll know that if you buy something like a Massimo Warrior MSU 850. Then it won't matter if you buy it in the US or from Antarctica. You'll still end up with the same product. However, one used Honda Talon 1000X will be vastly different from another used Talon in a million different ways. One might be in pristine condition while the other just barely being held together by duct tape and elbow grease.
Does A Used Side By Side Ever Make Sense?
Though we aren't trying to say that you shouldn't buy a used side by side at all. Going second hand can also bear fruit in its own way. For starters, people tend to modify there side by side UTV's with loads of accessories such as drink coolers, sound systems, LED light bars etc.
So once they come to sell it, they throw in all these accessories to sweeten up the deal a little. So you can sometimes get more for money when going with a used side by side. However, Massimo Motors throws in plenty of its features as standard. So you have to figure out what's best for you.
You can actually come across a used side by side that is in fairly good condition, has plenty of service history to showcase it has been taken care off and the price is right. The amount of effort required though in searching for such an example can be fairly tedious. You might end up checking dozens upon dozens of used UTV's before you find one in decent shape. However, if you are willing to put in this effort, it can be pay dividends in the end.
That Factory Warranty vs The Used Side By Side
No matter how many tests or checks you run or how much the seller persists on the fact that this used Side By side has led a simple and serene life. You're always going to have that thought at the back of your mind that one simple screw lose could end up costing you a months rent in repairs. That's the biggest problem with purchasing something second hand. The lack of a warranty always has you being extra careful and frugal and you might not end up enjoying it as much.
UTV's are designed to be driven hard and worked hard, used and abused.  So if the UTV's been used like it was designed to be, you might end up taking it to a shop sooner than you expected. Massimo Motors offers a 1-year limited warranty on most of its UTV's.
If you end up purchasing a used side by side from a dealer, you might get a warranty. It's possible that you can get an extended warranty from them.  Usually these additional warranties are not included with the price.  So budget extra and read the fine writing on this warranty/service contract because there's no knowing what could go wrong. From a simple head gasket to entire suspension components, it's bound to break sometime.
Conclusion
A used side by side does have its place in this world, but when you compare it to the sheer value for money that Massimo motors provide with their offerings it's hard to justify choosing them over Massimo. If you have the time to drive around and test drive and inspect used side by side then you might find a pot of gold at the end of your bargain hunt.  Time is one thing that many of us are usually short on these days, so does the savings in price equal the time you spend hunting for that diamond in the rough is the question you need to ask yourself.
Massimo sells many of their vehicles on Walmart.com, they make buying UTV's easy and affordable.  They offer free shipping and Walmart is one of the most customer friendly companies around. Especially when you consider that a brand new Massimo UTV could potentially be cheaper than a used and abused UTV. All these factors and a new Massimo has to move to the top of your list.
Parts & Accessories
As an added bonus to the Massimo line of UTV's and golf carts are their extensive line of accessories. Massimo has electric coolers that are great for outdoor activities or camping.  Snow blower attachments that fit on their UTV's and snow plows that are custom made for their ATV's and UTV's. Also there's plenty of other products that help improve the usefulness of these utility vehicles.