Better Deal? ~Used Golf Cart
Or
New Massimo 4 Seat Golf Cart
While we may not be experts at the game Golf itself, Golf Carts are an entirely different story. They were initially built to ferry around people on the golf course so the game didn't take as long as it once did to complete. Though their uses go far beyond meandering about at 5mph transporting men and women dressed in questionable tweed.
If any of you have ever driven a golf cart before, you'll most certainly have walked away from it with a desire of buying your very own one day, and who wouldn't want their own personal golf cart.  Golf carts are so enjoyable, they built communities around these wonderful creations.   They are faster than you might think and can be immensely practical tools to have around.
Plus their epic fun, if you're a regular golfer you'll most certainly have egged on your buddies to take part in a little golf cart drag race among various other shenanigans. Somehow whenever you get inside one, you're overcome with this insatiable desire to drive around like a 9-year-old child. But if you are planning to get one for yourself, don't be fooled into thinking you can pick up one for a song and a dance.
[Learn More About Massimo Motors]
Most golf carts are ridiculously expensive, even for the most basic of models.  So what about a used golf cart? A used golf cart can be a savvy way of saving more than a few bucks off a hefty sticker price of a new model.  Of course there is a little catch with the used golf cart acquisition.  It's called leg work. Yes, someone's has to go through the classifieds, surfing the net or calling up those used golf cart salesman, it can be more trouble than its worth. Thankfully Massimo Motors is on hand to help with that.
 The company has an extensive range of golf carts that in many cases cost a less to purchase brand new than some of the used golf carts on the market.  Within Massimos side by side UTV lineup range are some models that have been specifically tweaked to be transformed into 4 seat golf carts that moonlight as nifty off-road machines.
So which do you go for? Do you take a chance and end up purchasing a used golf cart that could potentially bite the dust at any given moment. Or do you play it safe and end up purchasing a brand new Massimo Golf Cart?  Is pricing the only consideration? What about a warranty? How about shipping? Well, there's quite a bit to consider here before we decide, so let's get into it.
The 4 Seat Golf Cart Collection 
Whenever a buyer has more choices within a particular category, their purchasing power increases. So manufacturers have to really up their game in order to stay competitive. Which means we consumers end up with better products at the end of the day for lower prices. You might think the same may apply when purchasing a used golf cart. Everyone is trying to get rid of theirs as fast as possible and there are hundreds of them online, so you're bound to get a good deal right?
Well, that might not be the case, most people tend to think the item their selling is somehow worth the same or over the list price they paid 5-10 years ago. That means you'll be limited to purchasing from people who actually understand the concept of depreciation. Then comes the process of actually going through each ad individually and narrowing it down to examples that don't have a million miles with tires as old as the pyramids.  What about delivery? You could spend countless hours searching the internet for delivery services that ship golf carts around the country at reasonable prices.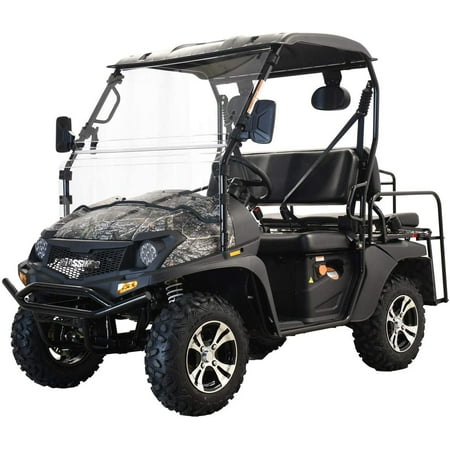 Sure Massimo Motors don't exactly have 5 pages worth of Golf models to choose from, but sometimes that can be a good thing. It's much easier to choose between five models in different price categories with varying features than shuffling through thousands of different brands and models on used golf cart ads.
Massimo's golf lineup starts with the Buck 200X gasoline Golf cart and ends with the T-Boss 550X gasoline golf cart.  In between these two, you'll find the electric Buck 60E Golf and a few other models with varying engine sizes.  Many colors are available along with 4 x 4 models for added off-road fun.  At the time of this writing, the starting price point for a new 4 Seat golf cart is under $5,500.
Massimo Buck 200X Gasoline 4 Seat Golf Cart
Massimo Buck 60X Electric 4 Seat Golf Cart
Massimo Buck 400X Gasoline 4 Seat Golf Cart
Massimo Buck T-Boss 410X Gasoline 4 Seat Golf Cart
Massimo Buck T-Boss 550X Gasoline 4 Seat Golf Cart
[Looking for A Used Golf Cart? New & Used Carts Available Here]
Used Golf Cart Vs New
When purchasing something brand new, it comes with piece of mind that you don't have to worry about any pre-purchase inspections or whether the tires are bald. Your getting something as fresh and bang up to date as this mornings newspaper.
When purchasing used golf carts, they come with in many cases a lower price tag but far less piece of mind.  One could be a rusted hollowed-out shell while another could be in factory fresh condition.  Combing through the used market has its hidden gems but many potential risks are lurking.  If only you could find a new golf cart at reasonable pricing that could be delivered to your residence free of charge.
Yes, brand new machines will face depreciation. In a year, you are pretty certain that your purchase will not retain its sticker price.  Used golf carts in comparison are unlikely to depreciate a significant amount after purchase, but a higher priced used golf cart won't hold its value either. However, sometimes that amount of money you have to put into keeping an old machine going quickly outpaces any depreciation cost that you might face.
Sure, most Golf carts don't live as hard a life as most UTV's or ATV's probably do. At best they'll have to tackle a slightly steep hill or navigate around a few bunkers every once in a while. Though that's not to say they don't experience their fair share of abuse. So don't go expecting perfection when you're browsing through craigslist. Banged-up body panels with paint deep scratches are going to be a fairly common sight.
One can live with a slightly weathered exterior, but if there's any permanent damage to any vital components such as the engine, gearbox, suspension, brakes etc. Then be prepared to significantly lessen your bank account balance just getting it back into decent shape.
Your used golf cart might have had 30bhp when it was new, but with all that wear and tear don't expect to get anything near that unless you intend to invest more time and money in that area.  If its electric, then the chances of it holding anything above a 50% charge are slim as well.
Exterior & Engine
It's a good thing Massimo doesn't skimp on performance with their range of Golf UTV's. Four of the five aforementioned models are equipped with a four-stroke single-cylinder engine in varying displacements. The cheapest Massimo Buck 200X Golf offers 8.7bhp from 177cc, both the Buck 400X and T-Boss 410X produce 25bhp while the T-Boss 550X pumps out 33bhp from 500cc. Even the 200X should provide more than enough power to navigate most golf courses, and surely handle any daunting terrain that a golf/retirement community has.
 If you intend to use your golf cart for something a bit more utilitarian, upgrading to something like the Buck 400X or T-Boss 410 would defiantly be worth the premium over the base 200X. Not only do they have more than double the horsepower, but they'll be a great deal more fun as well. Both the Buck 400X and the T-Boss 410X should easily be able to match or even overpower most used golf carts you can find in its price range.
 If you're looking for something electric, the Buck 60E Golf is a great option. Its cheap, has plenty of range (50 miles) that instant torque from the electric motor is always a welcome addition to any vehicle. Though if you do intend to do a little light off-roading with your golf cart, defiantly go for one of the more powerful petrol models. They should be more than capable to handle most nature-themed activities you throw at them.
Interior
The interior is defiantly where you'll find the most obvious signs of wear and tear in a used golf cart. Since golf carts are constantly being used around a course, and people are constantly kicking the paint every time they get in and out. It won't be a pretty sight that's for sure.
Sure you can search around for a privately owned used golf cart, but those are quite rare and often priced equivalent to, or even more than brand new Massimo golf carts. Whose interiors, now that we mention it are pretty great for the price.
Not only are the materials used of pretty decent quality, but the whole layout and arrangement of the switchgear are just superb. The seats in the back are just as comfortable as the seats in front and the rear ones can even be folded down into the floor to create a flatbed for transporting stuff. If you do not care about having rear seats, there is a dump bed available, even the Buck 60E Golf model has an electric version that comes with a pretty spacious dump bed.
When it comes to bang for the buck, Massimo has the used golf carts beat there as well. All golf models come with LED headlights, a windshield, side mirrors, indicators and hazard lights as standard. The Buck 400X, T-Boss 410X and the 550X even come with a winch on the front as standard. So if you're looking to do some light trailblazing with your golf cart. You'll be able to pull yourself free from even the thickest of mud you manage to get yourself stuck in.
Though don't go expecting all the bells and whistles that you might get from a luxury golf cart, cause these Massimo UTV's are not luxury UTV's by any means. You do get the basic amenities such as dashboard storage, cupholders and a couple of USB ports alongside a 12V socket. Though don't go expecting features such as hi-fi audio or air conditioning. These golf carts aim to meet the demand of the buyer looking for the affordable golf cart/UTV.
Features
It's a golf cart, its meant to be functional while being a bit of fun. So how many features can you expect from something that only really has one purpose? Well in the case of Massimo's golf carts, quite a bit. For starters how does fully independent suspension alongside hydraulic disc brakes with drilled and ventilated rotors sound? No, not just on the higher end Massimo T-Boss 550X Golf, but even the least expensive Massimo Buck 200X Golf.
The Buck 400X, T-Boss 410X and 550X even come with select 4WD, locking differentials and high and lower gear rations within the automatic CVT transmission. This makes Massimo's lineup of golf carts pretty multi-purposeful. You could take it for a few rounds of golf in your stylish golf attire then toss on some riding gear and cruise around  your favorite dirt track in the evening.
 Compare that to the used golf carts you find that barely include a windshield in the price and the Massimo Golf carts start looking like the better offer. Yes, there are times when you can get a good deal on a used cart. They might have taken good care of it or fitted mods such as a banging stereo system or even air conditioning. Yes, you'll have a spend an unreasonable amount of time looking for such a deal, but it can be worth when you do find one.
Factory Warranty
No matter how much someone might brag over how they saved money by going with a second hand golf cart versus something brand new. The fact is, having a factory warranty can grant you piece of mind that is well worth its weight in gold.  When you do go with a used golf cart, you might be lucky enough to find a dealer that gives you a limited warranty.  In those cases the warranty may work out if covers what you need.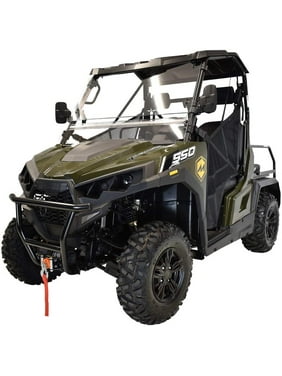 You know that factory warranty will save your skin if something does happen to go wrong. Heck even if it catches on fire, if its under warranty. You'll most likely get a new one, well that is if you didn't light it on fire yourself. Massimo Motors offers a 1-year limited warranty on most of its golf carts or UTV's.
There are so many components on a golf cart that are meant to be replaced over time. Regular maintenance items such as oil, filters, spark plugs, batteries, gaskets, belts, tensioners and yes even suspension components after a certain number of miles. So when you can get something new, with a factory warranty and maybe even for a lower price than a used model. Why wouldn't you do that?
Conclusion
When it boils down to it, Massimo motors extensive lineup of immensely capable and multi-purposeful golf carts are a deal that's hard to turn down. Especially when you compare them to some of the subpar examples of used golf carts that you can find online. So unless someone offers you a barely used cart for a deal you can't pass up, we're going to look hard at the Massimo  Motors collection of new golf cart UTV's every time.
[Get A New Massimo UTV Or Golf Cart Delivered Free To Your Home]
These new golf carts are available with free delivery in many colors from a trusted customer pleasing company like Amazon.  Having a golf cart delivered directly to your home saves time, effort and money.  Having to pick up a used golf cart from a private seller locally or out of state can create an inconvenience.  Conversely, a product that can be delivered quickly and to almost anywhere in the USA is a winning decision.
Where To Purchase New Golf Carts
Walmart.com might not be the first place you think about when it comes to buying a golf cart or UTV but it's no surprise that they offer them for sale.  They offer quick and free delivery along with great pricing on these Massimo vehicles.   You can apply for a credit card or other financing that offer easy terms or even a cash back offer.   Like everything else they sell they make it easy for their customer to get what they want, and fast!
Click on the Walmart logo below to check pricing and for further information.
[Attention Important Information]
Where To Purchase Used Golf Carts
On a national level you can find New and Used golf carts at Saferwholesale.com. They offer a wide selection of new, used and customizable golf carts along with other motorized vehicles.  A feature of their website for interested buyers is that they provide a green " Make An Offer" button on their website.  This button on the individual product checkout page allows you to make an offer for less than their sale price.
[Looking for A Used Golf Cart? New & Used Carts Available Here]
This gives the buyer a chance to negotiate a lower sale price.  Whether it's a free upgrade, a lower sale price or discounts on shipping fees, this is an important feature to use before placing any order.  Fill out their form and they will contact you to work out a deal.