Massimo Warrior 700 Review
Massimo motors is an up and coming brand that is trying to wiggle its way into the competitive side by side market.  Honda, Kawasaki, Polaris are just a few of the names we are all familiar with in the UTV market.  But this company from Texas has been working on its craft for little over a decade now.  And now it has pretty good thing going.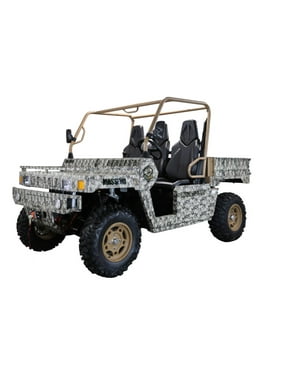 Let's not overlook the Massimo Warrior 700.  One feature that's interesting is it's three seat design. The squared off steel frame has one thing on its mind, and that's business.  It's body style is designed for practicality, this machine has plenty of flat surfaces along with a spacious cargo bed.
Speaking of this spacious cargo bed, the bed is best suited to hold about 500 pounds of cargo.  It has a hydraulic dump bed that comes standard with this model.  Three adults can sit comfortably in the Warrior 700.  Each seat is fitted with seat belts and you can adjust the seats for added comfort.  Seat belts will be needed with the 686cc four stroke OHV single cylinder engine that's pumps out 34 horse power.
 The Massimo Warrior 700 is a machine that is focused on helping get your work done.  There's not many frills or bells and whistles with this Massimo UTV.  Maybe that's why this UTV is one of the more affordable side by sides in this class.  Massimo's website has it listed for $10,799.00 but you can get it for less than that and free shipping.
The dash is well designed, all the needed switches are neatly laid out on the dash.  Controlling the 3500 lbs winch, turning on the head lights or switching the Warrior 700 into 4WD is a piece of cake.  There's a large glove compartment on the passenger side that is roomy and has a lock to keep it closed while driving over rough terrain.  In the middle of the dash supplies your electrical power, there are two USB ports surrounding a 12 volt outlet. These will come in handy if you want to plug in a fan for the summer time, a radio or just keep your cell phone charged.
With the positives also come some draw backs.  The Massimo Warrior 700 doesn't include power steering, if your handy enough or willing enough to take on the job, there is space to add it later on.  The Warrior 700 does feature roof racks and a bunch of tie down hooks located in all the right spots.  But the roof racks prevent a hard cap from both being used.  Unless of course,  there's some do it yourself customization.  Doors are not included and it's missing a windshield.  Coffee drinkers with be disappointed that cup holders aren't included in this model, but like we said earlier this is a no frills design.
Positives Of The Massimo Warrior 700
Affordable Pricing Compared To Competition
3 Seat Design With Seat Belts & Buckets Are Adjustable
500 Lbs Dump Bed
Standard Hydraulic Dump Bed
686cc 4 stroke OHV single cylinder engine
34 Horse Power
On Demand 4WD
Standard 3500 Lbs Winch
Standard Side Mirrors
USB Ports & 12 Volt Outlet
Company Made Accessories Fit Easily On Warrior 700
Fun To Drive
Negatives Of The Warrior 700
No Power Steering
No Cup Holders
No Doors
No Roof
No Windshield
Hitch Isn't Standard Size
Clean Air Intake Is Behind Middle Seat
Wind Shield Is Two Pieces, Seem Can Be Annoying If In Sightline
Customers Have Complained It's Loud
Who Are Massimo Motors?
Massimo Motors is company based out of Texas, more specifically it is located in the Dallas/Fort Worth area.  Their website states that their foundation that they were built on is, "Good Price, Good Quality and Good Service".  They were founded in 2009 and they now have a 325,000 square foot factory in Garland, Texas.  Mini-Bikes, recreational ATV's and UTV's or side by sides are a few of the value packed products they produce.
Why is Massimo so affordable?  Well like others do in this market, and in industry all over the country they outsource the manufacturing of the parts of their vehicles.  These parts are made overseas, China to be exact.  The final product is assembled in the United States in their Garland, Texas factory.  These  savings can be passed on to the customer.
Have the Massimo Warrior 700 shipped free to you!
A customer from the Massimo website left this comment about the Massimo Warrior 700.
"Great machine! Heavy duty and large enough for everything I need on the farm. Love having the seating for three."
~Lee
Other Massimo UTV's
The Massimo Warrior 700 is just the tip of the ice berg when it comes to the Massimo motors product line.  They have other Warrior models along with UTV's from their other collections.
T-Boss Series
Warrior Series
MSU Series
Buck Series
X-F3 Series
Above are the other UTV line of products Massimo produces.  These styles include electric and gas powered vehicles along with air conditioned  and heated models.  The closest model to the Massimo Warrior 700 is the Warrior 800.  The 800 has power steering, a larger engine, stronger winch(4500lbs), larger gas tank and larger all terrain tires.  With those upgrades, also comes a steeper price tag.  According to Massimo's website they have The Warrior 800 listed at just under $13,000.
Massimo Aftermarket Parts & Accessories
What about after I buy a Massimo UTV, will I be able to get parts?  That's a great question and something that should be strongly considered when investing in a sizable purchase.  Can I get accessories that will fit my Warrior?  These are all sensible thoughts.  Massimo does an excellent job with accessories.  They offer many products including snow plows and snow blowers to even electric coolers.  A quick google search of  "Massimo UTV parts" will calm your fears of not having anyone to sell you replacement parts or aftermarket products.
Many items that are not included in the standard package can be purchased below.
Dimensions & Capacities
Vehicle Size (L x W x H): 122 in x 65 in x 82 in
Wheelbase: 87.5 in
Ground Clearance: 14 in
Cargo Bed (L x W x H): 39.5 in x 61.5 in x 10.25 in
Cargo Bed: Hydraulic Piston Dump
Towing Capacity: 1,500 lbs
Cargo Bed Capacity: 500 lbs
Fuel Capacity: 7.6 gallons
Seat Height: 31.5 in
Dry Weight: 1,830 lbs
Engine & Drivetrain
Engine Type: Four Stroke OHV Single Cylinder
Displacement: 686cc
Horsepower: 34 HP
Cooling: Liquid Cooled
Transmission/Final Drive: Automatic CVT P/R/N/L/H, Shaft Drive
Drive System: 2WD/4WD, Locking Differential
Fuel System: Electronic Fuel Injection (EFI)
Chassis
Front Suspension: Independent Dual A-Arm
Rear Suspension: Independent Dual A-Arm
Front Tires: AT 27 x 9-14
Rear Tires: AT 27 x 11-14
Front Brakes: Dual Ventilated Hydraulic Disk Brakes
Rear Brakes: Dual Ventilated Hydraulic Disk Brakes
Wheels: Aluminum
Additional Features

 
Battery: 12V 35AMP
Instrumentation: Digital Display, Tachometer, Speedometer, Odometer, 4WD Indicator, Hour Meter, Trip Meter, Gear indicator, Headlights (High/Low), Turn Signals, Fuel Gauge, Differential Lock Indicator.
6 Month Limited Warranty
CONCLUSION
At this point Massimo motors we wouldn't consider a new company, but a young company.  They have been around for a while now since 2009.  They have a track record, and from our research the reviews and comments about their products are mostly positive. The Massimo Warrior 700 is an affordable side by side that's built for practical purposes.  It's squared off design makes it easy to strap down objects and a hydraulic dump bed makes it easy to clear out the large bed of any cargo.
[Find a Great price on the Massimo Warrior 700 and get free shipping at Walmart.com.]
Overall, the Warrior is a deal, a solid machine at an affordable price.  There is a lack in power but there is also a smaller price tag.  The look of this vehicle is not the traditional style of side by sides, but that is not what Massimo motors was looking to achieve.  If a more traditional looking style UTV is what your interested in the Massimo T-Boss 410 might be an option.  
If your looking for a new side by side and aren't looking to spend a boat load of money than the Warrior 700 should be looked at very closely.  Whether it's for hunting, farming, or any other reason this UTV will get the job done!
Please follow use on Twitter.
The Massimo Warrior 700 UTV ~ Big Deal or Big Dud? https://t.co/DSjtBL3pmc

— youroffroadpartner.com (@offroadpartner) March 31, 2020
Get to know us better, check out our about page.