---
Massimo 

T-Boss 410 vs Odes Comrade 650
With the world of UTV's getting extremely saturated, it can be a pretty tricky ordeal when it comes to choosing a new model that fits your exact needs. Most salespeople will always try and upsell you into one of their more expensive models.  Not only can they cost more than Buckingham Palace, but they're often way too overkill for what most people are going to use them for. This can be particularly daunting if you're just starting out in this adrenaline-fueled world of trailblazing adventures.
Unless you're doing some serious offroading in places even an Argo would start to lose traction, one of the more affordable and basic units should do you just fine. But even this segment is fairly overpopulated with UTV's that all seem to be broadly the same, making your choice even harder.
So that's why we've chosen two of the very best value for money side by side UTV's that you will find anywhere in the market. We're going to pit them head to head to see which offroading brawler gets to take home the crown and end up in your driveway or backyard.  From Massimo motors, we have the critically acclaimed Massimo T-Boss 410, and going against it from Odes industries is the Odes Comrade. Both these compact off-roaders feature an estimated MSRP of around $7,999, so you'd expect them to be nearly identical, well as luck would have it, they aren't.
Design
Despite both UTV's being from two completely different manufacturers. At first glance, you might not even be able to tell the Odes and Massimo side by sides apart. When it comes to design, both models share a very similar design language. A design language that will be instantly recognizable to UTV enthusiasts all around the world as they both take heavy inspiration from the legendary Yamaha Rhino.
The Rhino was the benchmark side by side UTV of its day. Yamaha stopped production of it back in 2013, but that hasn't stopped manufacturers from trying to rekindle some of the Rhinos old magic in their modern-day interpretations, and that includes its design.
Around the front, you get the signature aggressive styling found on most UTV's these days with a squared-off front end. While the Odes looks nearly identical to the Rhino.  Massimo motors actually went through the trouble of adding their own flair to the 410's aesthetics with circular LED headlights alongside sharper angles and creases throughout the design of the T-Boss 410. Giving the Massimo some extra street cred.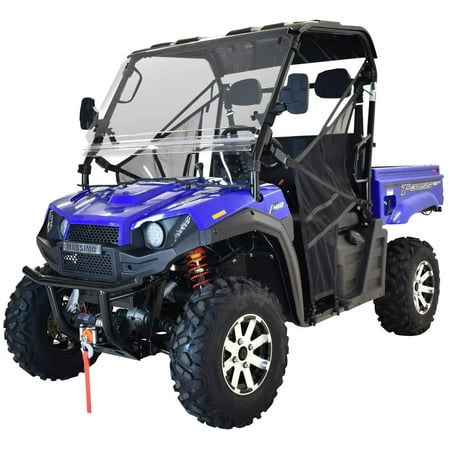 While the Comrade also features daytime running lights, its headlights only come equipped with halogen bulbs from the factory. A potential downside for those of us who like to forage through the woods at heart-pounding speeds even when the sun has long set.
Around the rear, you get a surprising dash of practicality as both the Comrade and the T-Boss 410 feature fairly spacious dump beds. A useful commodity if you occasionally need to haul stuff around such as firewood or camping supplies.
At the end of the day, beauty is in the eye of the beholder and it's up to you to decide which of these two walk away with the tiara. However, if we had to pick a winner it would defiantly be the Massimo T-Boss 410. Based solely on the fact that their design isn't a complete carbon copy of the Yamaha Rhino.
Engine & Performance
As any self-acclaimed UTV expert will tell you, power isn't everything when it comes to evaluating the capabilities of UTV's. While that may be true, one thing they always neglect to mention is the byproduct of copious amounts of sheer smile-inducing thrill that result from having a bigger and more powerful engine. An area where the Odes side by side starts to gain back some footing. With the Comrade, you get a 650cc single-cylinder SOHC 4-stroke motor that pumps out nearly 40bhp and 42 lb-ft of torque at just 4250rpm.
[Below is a video from Odes Industries about the Odes Comrade.  The Sitka version in the video is slightly different than the model we are writing about, the video explains the differences and similarities.] 
While that may not sound like a lot, the Odes Comrade only weighs in at 900 lbs, a full 100 lbs lighter than the T-Boss. So that should result in some serious bottom clenching action from your passengers as you simply blast over rough terrain and tackle sharp bends at outlandish speeds. The Massimo T-Boss 410, on the other hand, doesn't do so well here in comparison.
It features a 352cc 1-cylinder SOHC liquid-cooled four-stroke engine that produces a fairly modest 25.5bhp. That's nearly half the engine size and power of the Odes. All that extra power means that the Odes side by side can tow up to 1200 lbs. While the Massimo side by side states that it can tow up to 1200 lbs, it's better suited towing less.  The Comrade even comes with a 4-year warranty compared to the Massimo's 1-year warranty.
While the Massimo T-Boss 410 is not slow by any means, it does still represent a massive 35% gap in terms of raw power numbers between the two. However, despite the difference, Massimo says the T-Boss can still hold its own with the Comrade as both UTV's top out at around 36mph.
Both models also feature a fully automatic CVT transmission with high and low gear ratios. Yes, a manual would have been a nice choice to have given that these vehicles are built for fun as much as their built to be utilitarian. However, both auto gearboxes should be more than up to the task when the going starts to get a little hairy.
Interior & Features
Neither of these vehicles is meant to be the last word in luxury so as you'd expect the interiors are quite ordinary. However, once again the Odes manages to outpace the T-Boss when it comes to sheer value for money. For starters, the Comrade is equipped with two individual seats with head restraints and plenty of side bolstering. These seats are a great deal more practical then the bench seat you get in the T-Boss 410.
Though the 410 can accommodate 3 in a pinch even though there are only two seat belts. You can even get the 410 in another version called the X Golf. It's nearly identical to the standard version however around the back you get a rear-facing bench seat instead of a dump bed. So when it comes to the number of people you can transport, the 410 has the comrade licked.
Though that's about the only area where the T-Boss manages to edge out ahead. For starters, the interior in the Comrade just feels better put together than Massimo's offering. The switches are laid out in a more logical and somehow more aesthetically pleasing manner. You even get a proper glovebox alongside standard half doors. Something we vastly prefer over the Massimo UTV's standard door netting.
If you want Odes will even install an infotainment system with your side by side. Meaning you now enjoy your favourite Bethavon symphonies as you dislodge every bit of mud and gravel insight on your next Sunday expedition.
The Massimo T-Boss 410, while it isn't as good, doesn't fall too far behind. Everything from the switchgear to the gear lever feels like it was meant to withstand years of abuse. The T-Boss 410's also features a conventional digital instrument cluster.
Not only is it bigger but unlike the comrade, it's placed directly in front of the driver. For whatever reason Odes decided to stick their instrument cluster in the centre of the dash, and a puny one at that. So you'll really have to lean in if you want to read any of the displayed information.
Who knows, maybe they were trying to market it towards Tesla Model 3 owners.
Standard equipment of these UTV's includes a roof, windshield, doors mirrors and even a front winch. Massimo says their version can winch up to 3000lbs, but the Odes once again has it beat with a 3500lbs rating. Though one area where the Massimo T-Boss 410 might be a bit more appealing to some is its vast array of accessories.
From performance air filters to snow plow's and snow blowers, Massimo has done a great job in expanding the practical capabilities of its UTV's with such add-ons. Since they're made by Massimo themselves, you won't face any compatibility issues either as you do with most 3rd party accessories.
Off-Road Capability
No matter how many amenities or added features the companies ship their UTV's with, the one thing that enthusiasts care about above all else is there ability to conquer through anything mother nature throws in their path.
Both Odes Industries and Massimo motors haven't skimped on anything in the off-roading department. Both feature select 4WD, locking differentials, fully independent front and rear suspension, ventilated disc brakes all around, off-road tires and plenty of underside protective plates. So you can hammer it along any beaten path and not worry about any stones or debris hitting any vital components.
The Odes does feature 11 inches of ground clearance whereas the Massimo caps out at 9.75 inches, so there's less chance of grounding out. The Comrade also has more suspension travel, so when the going does get tough, the ride shouldn't suffer all that much either. Of course, since the Odes Comrade also has more power, hills, muddy fields and near-vertical climbs should be way more effortless.
It's hard to find a victor here as both UTV's do a splendid job of keeping you mobile through pretty much anything you can throw at them. Though it is hard to ignore the Comrades massive power advantage over the T-Boss 410. Hit the pedal and this Odes side by side simply gathers speed like no other UTV in its price bracket.
Conclusion
While the Massimo T-Boss 410 is an extremely capable side by side UTV in its own respect. The Odes Comrade just shines out in this comparison for its great value for money, an expansive list of standard equipment, a powerhouse of an engine and its astonishing off-road capabilities.  With all that being said, unfortunately Odes Industries has fallen on some difficult times.  With an unclear future the Massimo T-Boss is the safer choice at this point. Both UTV's are still available for purchase and the Comrade 650 is probably available for an even better deal.
Where To Buy
IMPORTANT INFORMATION 
If your looking for a deal on the Odes Comrade 650, then you can make your own deal at saferwholesale.com.  Excuse me?  Make my own deal?  Yes, they offer competitive pricing on all kinds of UTV's, ATV's and golf carts and more!  They have a " Make An Offer" button when you click on a product, that's when instead of paying full price, you can fill out the form and offer your best price.  Why not ask for a discount?  Maybe free shipping?  Or discount on a snow plow or enclosure?  See below the picture of the product page from their website.
If Safer Wholesale wants to make a deal you can work it out with them.  Here's a link to the Comrade 650.
Get Free Shipping on The Massimo UTV T-Boss 410 At Walmart.com
You can find the Massimo T-Boss 410 through the link above.  The Massimo has a bunch of accessories, they have everything from electric coolers to snow blowers.
Please follow us on Twitter 
Best UTV Review| Massimo T-Boss 410 Vs Odes Comrade 650 https://t.co/sajm3UsJ4T

— youroffroadpartner.com (@offroadpartner) March 31, 2020