Massimo Off
–
Road Golf
Carts
We've all seen those compact folding knives that can also double as a bottle opener and even come with an attachment to become a screwdriver. It's the dual or sometimes ever triple-natured personality of these tools that just makes them so appealing for whatever reason. Think about it, what would you rather have? A plain old boring pocket knife that your only ever going to use once at Christmas, or something that has a knife alongside a vast array of diverse tools that could be used to fix a small motorcycle in a pinch. Of course, you'd choose the swiss army knife.
It's a pity we don't see such a multipurpose nature in our vehicles and especially in our UTV's, there's just no swiss army knife of UTV's. However, we think we know something that gets awfully close and that's Massimo Motors lineup of off-road golf carts. Now you might think that we're grasping at straws here, but they might just be one of the industries best-kept secrets.
Massimo's lineup of off-road golf carts is an entirely different breed of multipurpose UTV's. They're still the same thorough-bred side by side UTV's that enthusiasts want and demand, but with extra seating, some classier rims and space for your golf clubs. They're equally as home on the golf course as they are 3-inches deep in mud.
With six different models, many colors to choose from and their beginning model starting under $6,000.  There's something here for everyone, so let's find one out which one of these off-road golf carts is best for you.
Buck Series Gasoline Off-Road Golf Carts
From Massimo's Buck lineup comes the least expensive  and of course the least powerful model within Massimos off-road golf cart lineup. The Massimo Buck 200X Golf, is designed to be all the golf cart that most people will ever need in their lives. The Buck 200 finds a sweet middle ground between flashy and utilitarian in terms of design, perhaps leaning a bit more towards utilitarian.
 Though the standard LED headlights, alongside some classic chrome rims will help it blend right into most upscale golf resorts. The 200's bigger brother, the Massimo Buck 400X Golf shares an almost identical design language. However, the chunkier off-road tires and overall larger dimensions help it to distinguish itself as the superior off-road golf cart.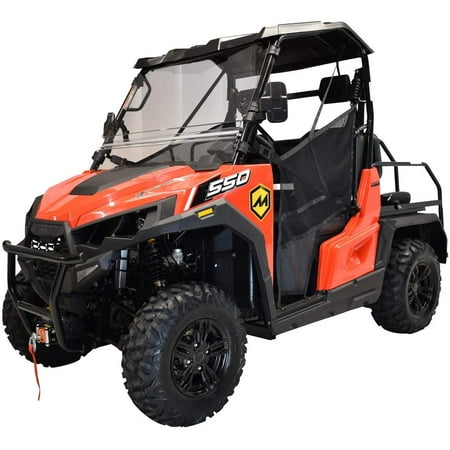 When it comes to power, any of these UTV's have more than enough power to navigate almost any golf course you throw at it. Though these are more than just golf carts, their off-road golf carts, designed to work as well on manicured lawns as they do on windy bits of gravel in the countryside. So this is where the Buck 400X Golf's larger 400cc four-stroke single-cylinder engine outclasses the tiny 177cc unit found in the 200X Golf.
This means while the 200X has to make do with just 8.7bhp, the Buck 400X off-road golf cart gets a respectable 25 ponies to play around with. So if you plan to occasionally introduce your golf cart to steep tracks and ridiculously muddy fields, the 400X is the one to go with. Though, that's not to say the 8.7bhp in the 200X is lackluster. You certainly won't notice the power difference as you putter about from hole to hole, and it might even be enough for some light dirt-track off-roading.
 When it comes to features, you can't find much to distinguish the Buck 200X and the 400X off-road golf carts. The interior you get in both models is well thought out and built to last through the years. A hardtop roof, windshield and side mirrors are all standard as well.
One neat trick that all off-road golf carts within Massimo's lineup posses is the ability to fold down the rear-facing seats to create a flat load bed. So instead of people, if its stuff you need transported, any Massimo golf cart will easily get the job done. If storage takes priority over seating for you, both models are available in a version that features a hydraulic rear dump bed instead of rear seating.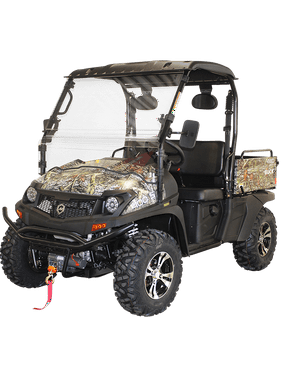 Despite the array of similarities, there are one or two things that the 400X gets over the 200X. Firstly the 400X comes with a standard front winch rated for up to 3500 lbs. The 400X also comes with chunky off-road tires while the 200X has to make do with standard road tires and perhaps the biggest letdown to UTV's enthusiasts, the 200X does not feature select 4WD.
The lack of 4WD is a bummer, though it's the only tool in the 200X's box of off-roading gear that's missing between the two. Both Massimo Buck series off-road golf carts get fully independent front and rear suspension as standard, hydraulic drilled and ventilated disc brakes all around and an automatic CVT transmission with a high and low gear.
When it comes to sheer off-roading potential, the Buck 400X has the 200X licked. Its more powerful engine coupled alongside its standard winch means it can go places the 200X couldn't dream off. Though there are A few places where the 200X comes out ahead. For starters, it weighs less, at around 800 lbs compared to 1100 lbs for the 400X and has more ground clearance at 11 inches compared to just 9 inches for the 400.  And the difference in price will get you a few extra rounds of golf or maybe a new set of clubs.
Buck Series Electric Off-Road Golf Carts
We've talked about Massimo motors gasoline off-road golf carts within the Buck series, now let's talk about the only electric model in the lineup, the Buck 60E Golf. In almost every aspect the Buck 60E is nearly identical to the Massimo Buck 200X. They share the same exterior styling with an aggressive but slightly utilitarian design.   Though features such as standard LED headlights and chrome rims do help to offset that image.
The 4KW electric motor in the Buck 60E golf is powered by a total of 5 batteries. This translates to a claimed maximum range of 80km and a top speed of around 30mph. However, once you throw in some passengers and a couple of golf clubs into the equation and we're sure both numbers fall pretty drastically.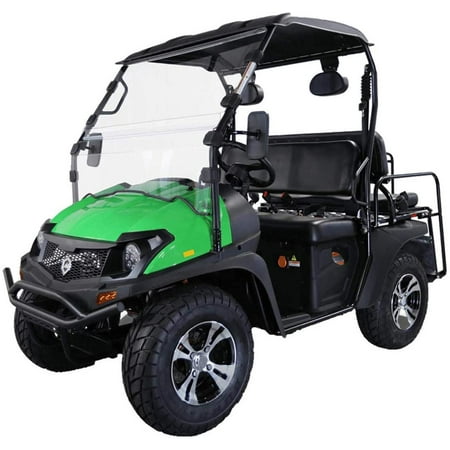 Like the Buck 200X, the 60E isn't all that powerful. It also weighs nearly 500 lbs more than the 200X at 1236 lbs. So if your planning on using this as your next mud crawler, we'd suggest looking elsewhere. It isn't all negative though, first of all, there's that instant torque from the electric motor. Put your foot down and your meet with an immediate wave of torque that could liven even the dullest of Tuesdays. If it's a practical golf cart you're looking for, then the Buck 60E will also be a lot cheaper to run and maintain than any of its gasoline counterparts and by a considerable margin at that.
T-Boss Series Golf Carts
The T-Boss Series is one of the most popular UTV's in Massimo motors lineup. Not only are they affordable compared to the competition but immensely capable side by side UTV's at the same time. Turn them into golf carts, and you've only got a recipe for success.
There are three off-road golf variants to choose from in the T-Boss lineup. The base 410X Golf, the 550X , and the 750X Golf.   When it comes to design, all three of them feature about as an aggressive a design as you're going to get from a UTV these days.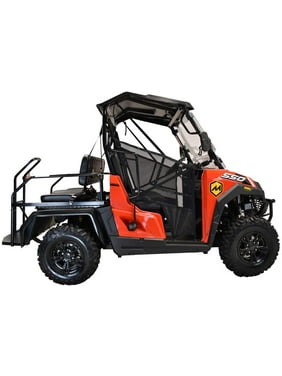 While the 410X Golf still looks and feels a bit restrained, sharing a familiar look with the Buck series. The 550 and the 750 takes sharp creases and aggressive stances to a whole new level. If Bruce Wayne played golf, you can bet he'd use one of these, in matte black of course.  Like all Massimo models, standard LED headlights alongside side mirrors, windshield and a hardtop roof are a standard affair here.
From the inside, they're all pretty similar just like the Buck Series. Functional and built to last the test of time. There's even a couple of amenities like cupholders, interior storage and a 12V power socket alongside a couple of USB ports. Though by far the best feature is being able to fold the rear seats flat to create a makeshift flatbed. In terms of sheer size, the Massimo T-Boss 750X Golf is by far the biggest off-road golf cart here. So if its space and practicality you're looking for, this is the best in the range.
Powerwise we're looking at the same four-stroke single-cylinder engine in all three T-Boss's with varying levels of displacement. The 410X gets 25.5bhp from 352cc, the 550X gets 33bhp from 493cc while the 750X gets a pretty impressive 42bhp from 694cc. So in terms of raw strength, none of these off-road golf carts will leave you wanting for more.
 Even the 410X has more than enough power to kick its rear-end lose mid-corner. The usual array of Massimo off-road gear is fitted to all T-Boss models here. This includes fully independent suspension, select 4WD, locking differentials, hydraulic disc brakes, standard front winch and fat chunky tires.
The T-Boss 750X takes this a step further with double A-Arm guards with adjustable preload on both the front and rear suspension. So the next time you ground out at speed, those guards should stop any vital suspension components from snapping in half.
While all T-Boss models can take the worst that mother nature has to offer. The T-Boss 410X could do with a bit more suspension travel. In comparison to the 410X, the 550X and the 750X not only have much sharper handling but a much smoother ride as well thanks to greater suspension travel. Either way, if its trailblazing adventures you're looking for from your next off-road golf cart, any of the off-road golf carts from the T-Boss lineup should make your shortlist.
Conclusion
Massimo Motors has quite a few different off-road golf carts in their collection. As we detailed above from gas to electric, 2WD to 4WD, 4 Seat Golf Cart or UTV style dump bed, Massimo has you covered.  Massimo has designed an under rated vehicle that out performs its price tag.  They make their off-road golf carts in a bunch of different colors, and Amazon.com makes them easy to purchase and have them delivered straight to your doorstep.  Learn more about Massimo Motors.
Where To Buy Off-Road Golf Carts
There are few Different places to find golf carts or off-road utility vehicles.  As you have seen above Amazon.com offers these machines on their website.  Along with Amazon you will find Walmart as a provider of Massimo Golf Carts and UTV's.  Lastly, Saferwholesale.com sells UTV's and new and used Golf Carts.  See the links below.