Who Are Massimo Motors?
We've waxed lyrical about Massimo Motors quite a few times on this website.  But what is Massimo Motors and what are they all about?  What they do is they manufacture some pretty great UTV's, motorcycles, golf carts and even go-karts. That Being said, these products usually are a fraction of the price of what most competitors charge. Though we do recognize that many of you might never have even heard of this Texas-based company before. Well, since we've talked about several of their UTV's at length in other posts, it only makes sense to get to know the company a little bit better too.
Beginning Of Massimo Motors
Massimo Motors founder David Shan came to the United States over twenty years ago with a few dollars and some big dreams.  Despite knowing only a little English when he first arrived, he quickly learned the language became a citizen and opened a small business that specialized in selling mini bikes and scooters.
Mr.  Shan was a big fan of motorsports and thanks to his prior experience in retail, along the way he was able to source parts from China and begin local assembly of his very own line of ATV's and UTV's under the Massimo brand name, and boy did they sell.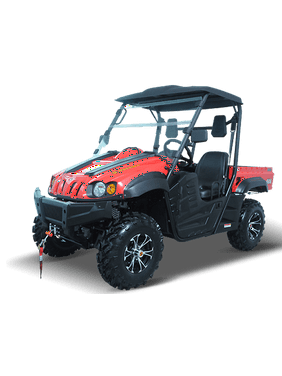 In 2017, Massimo Motors alongside Bennche and Linhai off-road vehicles joined together to form Sportsman Country. This partnership was pretty simple, Linhai which also has a joint partnership with Yamaha would supply all the parts and tools to Massimo Motors at below market price. While Massimo would take care of the distribution and dealer network of Linhai products here in the US.
With this partnership, not only were Massimo Motors able to source quality parts inexpensively, but each company was able to keep costs down significantly by leveraging each other strengths and weaknesses. This is why you often see Massimo products with more features selling at prices way less than the competition.
We've seen some people comment that Massimo UTV's are just cheap Chinese knocks off. If your one of those people that is thrown off by the "made in china" aspect of Massimo products. Remember that Apple also has a third party company produce its products in China and you wouldn't call those cheap knock offs now would you?
Good Price, Good Quality and Good Service
An inexpensive price doesn't mean it's low quality, Massimo Motors just knows how to keep their costs down without affecting their products quality. Something that's reflected in their motto of "Good Price, Good Quality and Good Service".  All Massimo Motor vehicles are assembled inside their 325,000 square foot factory.  It's located in the heart of the Dallas / Fort Worth area of Texas, in the city of Garland. Inside this factory, there's a massive manufacturing floor with enough room left over for all their office space requirements alongside a pretty spanking new showroom.
When it comes down to it, the recipe for a Massimo UTV or ATV is actually pretty simple. You take a bunch skilled American workers, quality parts, put them together in a state of the art factory, and produce a product that's much greater than the sum of its parts. If your shopping around for your next UTV or ATV, we'd highly recommend you check them out, they might just surprise you.