Massimo Electric UTV
Going green seems to be the newest trend in today's everchanging world. Not that long ago the sinister symphonies of combustion from our traditional gasoline-powered vehicles echoed throughout the roads and countryside. You'd wake up on a Sunday morning, filled the UTV with gas and within minutes you'd find yourself kicking traction lose as you merely slid about on your favourite dirt track.
Well, sadly those days might soon be a thing of the past. We must slowly say goodbye to our gasoline mud trekking brutes as the age of electrification ushers in and replaces fossil fuels altogether. However, that doesn't mean the fun is going to stop anytime soon, it's just going to a be a tad different and a bit quieter.
 These days we're told we must do all we can to keep our carbon footprint down to a minimum. For UTV enthusiasts the electric UTV is the perfect answer. Not only can you continue with your adrenaline-fueled expeditions, but now all the trees and wildlife will smile at you as scamper past, emitting no toxic fumes whatsoever.
With the whole world jumping on the Tesla bandwagon of hype, it's the perfect time to get yourself into an electric UTV. Which one do you ask? Well, the Massimo offer two models, the Buck 60 and the Buck 60E Golf side by side UTV seem to be a pretty good bet.
Massimo is pretty well known for making some great bang for the buck gas-powered UTV's. So we expect nothing different from their electric lineup. The Massimo Buck 60 is a side by side that begins at a starting price under $6,000 Making it a great and economical choice if you're looking to get out your current gas-guzzling UTV, or just looking to get yourself your very first UTV.
Design & Practicality
Unlike traditional car manufacturers that adorn their vehicles with all manner of quirky styling. Massimo hasn't bothered with any of that for its UTV's. There are absolutely no visual clues on its exterior that would give away its electric beating heart underneath. This electric golf UTV also goes pretty conservative with its styling, as its nowhere near as aggressive as some of Massimo motors other offerings.
However, it does still maintain the classic Massimo UTV design aesthetic with a squared-off front end, circular LED headlights and a front crash guard. We're not so sure about those blingy rims though. If you opt for the Massimo Buck 60E Golf variant you get a rear-facing bench seat. While the standard version (Massimo Buck 60) gets a pretty spacious and practical dump-bed.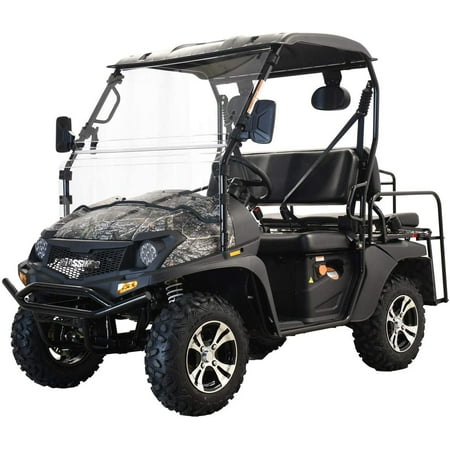 Of the two models, the Massimo Buck 60E Golf version offers the most flexibility.  As not only does the rear bench mean you can transport more people, but it can even be folded down. So it becomes a sort of makeshift bed for hauling stuff around. Massimo has even lined the back with diamond steel plating, so nothing gets scratched even when your lumbering around heaps of firewood or camping supplies.
Like all Massimo motors side by side UTV's you get an adjustable windshield, hardtop roof and side mirrors as standard. So it's able to travel off-road and on-road where it's legal, it even comes with turn signals.  However, one criticism we do have is the roof doesn't extend over the rear bench.
So if it does start pouring, your going to be hearing some particularly unpleasant words from your backseat passengers. At the end of the day, this electric UTV looks pretty much like any other UTV. While that's not necessarily a bad thing, Massimo could have taken this chance with their electric UTV's to liven their design up a bit. Oh well, maybe next time!
Powertrain & Performance
Normally at this point, we'd begin telling you about what sort of powerhouse of an engine drives this particular side by side. Since this is an EV instead, you get a single electric motor that drives the rear wheels. This particular motor is rated for a continuous power output of 4KW and is powered by a total of 5 batteries.
Yes, we know, that probably doesn't mean anything to you at this point. All that you should know is that's its enough to take this electric UTV to a top speed of around 30mph with two passengers on board. From what we know it probably isn't as powerful as a gas-powered counterpart, and nor as versatile.
Massimo motors claim the max driving range is around 50 miles (80km).  However, if you've got a heavy right foot, that range will significantly decrease. Once you are out of juice, it takes between 4-5 hours to charge the thing. So get ready for some serious range anxiety the next time you wander off too far off the beaten path.
 It's not all negative though. Having an electric does mean you're going to get instant torque the moment you mash your footdown on the gas pedal (yes we know its electric, so it isn't a gas pedal. It's hard to break habits!).
We've all seen those videos where a Tesla Model S embarrasses a half a million-dollar Lamborghini in the quarter-mile. That's the advantage of having full torque from virtually 0 rpm. So when you do decide to give the Massimo Buck 60 the gas, it takes off like a cheetah. That sort of acceleration is sure to provide some serious smiles per mile the next time you get a bit too overzealous with the throttle mid-corner.
[Get A Massimo Electric UTV Or Golf Cart Shipped Free To Your Home]
Interior
The interior is much the same as you'd find in any gasoline-powered UTV. Everything is pretty utilitarian but with an air of quality and robustness to it. The buttons are all nice and large and laid out in a manner where everything is where you'd expect it to be. The steering wheel and gear shifter are right next to each other and directly in front of the driver, so the driving position is actually pretty comfortable.
You even get a dash of practicality with two cup holders, a 12V power socket and a small slot in the dashboard to store stuff. However, most of that space is taken by the electric charging cable, which now that we mention it, is way way too short. The socket where you plug the charging cable into is directly underneath the driver's side of the bench. So at least its easily accessible.
What's strange not only for an electric UTV but an EV, in general, is the RPM dial. Most manufacturers don't bother with that on their EV's as there are no gears with an electric motor. Though it is a neat touch, especially since the dial goes all the way up to 12,000 rpm. So you can tell when you're really hammering it.
[Model shown in video is the Massimo Buck 60E Golf]
Right alongside is a digital instrument cluster that displays information such as your speed, odometer reading and remaining battery life. If you can't be bothered to look at it, Massimo has added another battery indicator that glows red when your nearly empty, and green when you've got a full charge.
One thing we did notice was since there's no shouty combustion engine in this Massimo side by side. You do tend to notice wind-noise a lot more. In-fact at low speeds, when the electric motor isn't making its space-like hum, it can get pretty irritating. However, it's by no means a deal-breaker.
Off-Road Capabilities
The Massimo Buck 60E isn't exactly what you'd called the Land Rover of UTV's. As we've mentioned before not only does it not have as much power as a traditional gasoline-powered UTV, buts it also only rear-wheel drive. In addition to a weaker drive unit, the Buck 60E also weighs around  1236 lbs. That's 236 lbs heavier than something like a Massimo T-Boss 410.
The Electric Golf variant of the Buck 60 has another disadvantage in the form of its tires. Since it was designed to work primarily on golf fairways and cart paths, you don't get the same chunky tires as you do on the standard dump bed model. Plus those rims are practically begging to be scratched the second stones and loose gravel are introduced to their shiny metallic finish.
That means when the going starts to get hairy, this electric UTV might start to struggle. Yes, it should be easily able to tackle something a dirt path, but anything more serious than that is a gamble. This electric UTV is better suited for those who don't intend to be going on crazy off-road expeditions.
Its sad really since the lack of power and 2WD seems to be the only drawbacks to this otherwise fantastic UTV. On both the front and rear you get fully independent suspension alongside the front and rear ventilated rotors disc brakes. That means they should be able to take a massive amount of punishment before they begin to fade.
The Buck 60E even has 11.5 inches of ground clearance, so you don't have to worry about grounding out when you just can't get enough helpings of that instantaneous torque.  Although, Massimo didn't equip this electric UTV with a winch from the factory, there is a place to add one.  Likewise, if needed a trailer hitch can be installed, but it doesn't come standard on this model.
[Get A Massimo Electric UTV Or Golf Cart Shipped Free To Your Home]
Conclusion
Overall the Massimo Buck 60E golf and Massimo Buck 60 are stellar value for money. They accelerate nicely, the interior is well built and functional and with two bench seats or the dump bed they are  immensely practical. For more leisure activities it's the perfect choice for those of us who want to do our part in conserving our planet and saving some green in our wallets as well.
Where To Buy A Massimo UTV
Massimo sells these side by sides on a few different websites, two popular sites are Amazon.com and at Walmart.com. Free shipping is included from both sellers. Inventory changes on both sites frequently so here are links to both of the websites.
Please follow us on Twitter 
Fun & Affordable Electric UTV~Massimo Buck 60 & Buck 60E Golf https://t.co/JRmE0VhjBp

— youroffroadpartner.com (@offroadpartner) March 31, 2020
Get to know us better, check out our about page.